Regular price
$33.99 USD
Sale price
$23.00 USD
Unit price
per
Sold out
Wound-Care Prepared
Everyone suffers from scrapes sometimes. Using Neosporin Orignal Ointment For Home or on the Go helps to keep your wounds free from bacterial infection. This package comes with one 1-ounce tube to remain at home and two 0.5-ounce tubes to keep in your purse or car. 
Neosporin Original First Aid Antibiotic Ointment provides long-lasting infection protection and minimizes the appearance of scars. Made with bacitracin zinc, this first aid antibiotic ointment helps prevent infection in minor cuts, scrapes, and burns and helps minimize the appearance of scars. Pair your Neosporin with Band-Aid to be fully wound-care prepared.
How to Use
From the #1 doctor-recommended brand, this antibiotic wound care ointment contains a unique HeliDerm Technology that provides a nourishing environment for skin to heal. To treat minor wounds, simply apply a small amount of the 24-hour infection protection antibiotic ointment and scar minimizer on the affected area one to three times daily and enjoy healthy healing with less visible scars.
Can Neosporin be Used with Other Medicines?
At this time, there are no known drug interactions between Neosporin and other prescription or over-the-counter medications. However, if you are allergic to Neosporin for Home or On the Go, or any of its ingredients, do not use it. If Neosporin causes a reaction such as painful swelling, redness, or itching at the application site, stop using and contact your doctor.
Can Neosporin be Used on Pets?
It is always best to ask your veterinarian before using antibiotic ointment for cuts on pets. However, if you are covering the wound, it may be okay to use on minor cuts for up to four days. If you are concerned that your pet will lick or ingest the antibiotic ointment during use, do not apply. Ingestion of this ointment could make your pet ill.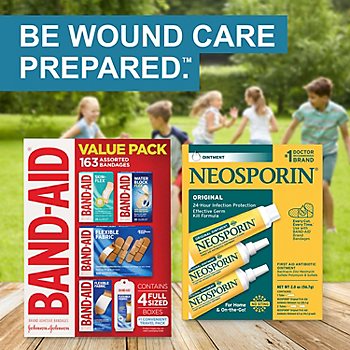 Be wound care prepared™ with Band-Aid and Neosporin.
 

oz. tube + .5 oz. tube, 2 pk
Provide infection protection and minimize scars
With neomycin sulfate, bacitracin zinc and polymixin B
24-hour infection protection
Minimizes appearance of scars
Clean affected area and apply small amount to are 1-3 times a day
You may cover affected area with a sterile bandage
Those pregnant or nursing should talk to doctor before using
From the #1 doctor-recommended brand
Use as directed
Ingredients
Active: bacitracin zinc (400 units), neomycin sulfate (3.5 mg.), polymyxin B sulfate (5,000 units). Inactive: petrolatum, gossypium herbaceum (cotton) seed oil, olea europaea (olive) fruit oil, theobroma cacao (cocoa) seed butter, sodium pyruvate, tocopheryl acetate
Share
View full details